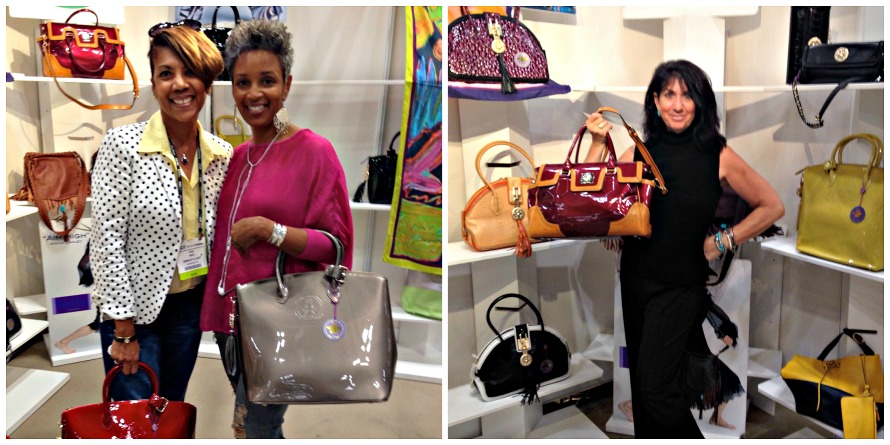 Just a month after returning from the Gift Show in Atlanta, ARC was on the move again. This time we were headed back to one of our favorite places, New York City, for AccessoriesTheShow. We've been to the shows in NYC plenty of times, so you might think it starts to take on  a "been there, done that" kind of feeling. Actually, it's the exact opposite. New York is always a surprise and it's almost impossible to predict who you might connect with. AccessoriesTheShow is a melting pot of buyers and is constantly providing new (and old) opportunities. Whether it's running into a long-standing client making reorders, meeting the veterans or meeting the newbies for the first time, you never know what an NYC show might bring. 
This time around, we had the best of both worlds. Heidi Redd of Amira's Closet, a Cleveland-based boutique specializing in high-end accessories, stopped by the ARC booth to re-order from our First Lady series (her best-sellers and favorites). With her, she brought friend and fellow entrepreneur Mary Kirkland. Mary owns and operates Mpulse Boutique, an accessories and jewelry boutique in Richmond, Virginia. Relatively new to the overwhelming world of trade shows and buying, Mary followed Heidi's (brilliant) lead and will also be carrying our First Lady series starting this September.
Traveling further south, Destin Jewelers in Mirimar Beach, Florida will be carrying each of our handbag collections, also beginning in September. Lisa Peters stocks her jewelry boutique with designers that provide more than just a product. Whether it be a special look, a specific cause, or just beautiful and well-crafted designs, she is committed to offering her customer a special experience and a wide range of merchandise to fit every style and mood. While she was sitting with me and choosing which bags to carry in her store, it was obvious that her customer is always at the forefront of her mind. She wants the women that shop with her to be confident that they are getting the best quality and most stylish products, and we are proud that she has chosen ARC to be a part of that vision.
I was also able to form an amazing new partnership with a company a little closer to home. Roberta Weissburg and Richard Fox, the dynamic husband and wife team of  Roberta Weissburg Leathers in Pittsburgh, PA, were walking by our booth and stopped in their tracks. Their goal for this show was to find a new brand to add to their already impressive list of designers, and we were lucky enough to fill that order. Veteran business owners with a discerning eye for quality materials and beautifully crafted pieces, Roberta and Richard know their leathers (which you could probably guess just by the name of their company!). Drawn in by the unique design, vibrant colors and overall quality of our handbags and scarves, our connection was then deepened once they heard the ARC story and philosophy. Roberta has been a staple in her Pittsburgh community for many years, and our commitment to empowering women and giving back to the community resonated with her immensely. Mrs. Ballington Booth's story was especially personal for her because of her many years working with a program similar to the Volunteers of America Step by Step program. It wouldn't surprise me if the Mrs. Ballington Booth bag was actually bought to be her new work bag! (People of Pittsburgh – keep your eyes peeled for an extremely stylish woman carrying an enviable new purse with a purpose) Every once in a while we find partners that are a perfect fit in every way for our company and our mission, and Roberta Weissburg Leathers is exactly that. I am so excited that beginning after Labor Day their Shadyside location will be our flagship store in Pittsburgh, carrying all of our collections as well as our scarves, but don't wait until then to visit them and check out their incredible one-of-a-kind leather apparel and other unique merchandise!
These are just a few of our newest partners, and we are always adding more. Mark your calendars because we will be in Las Vegas August 18-20 and then back in NYC September 14-16.