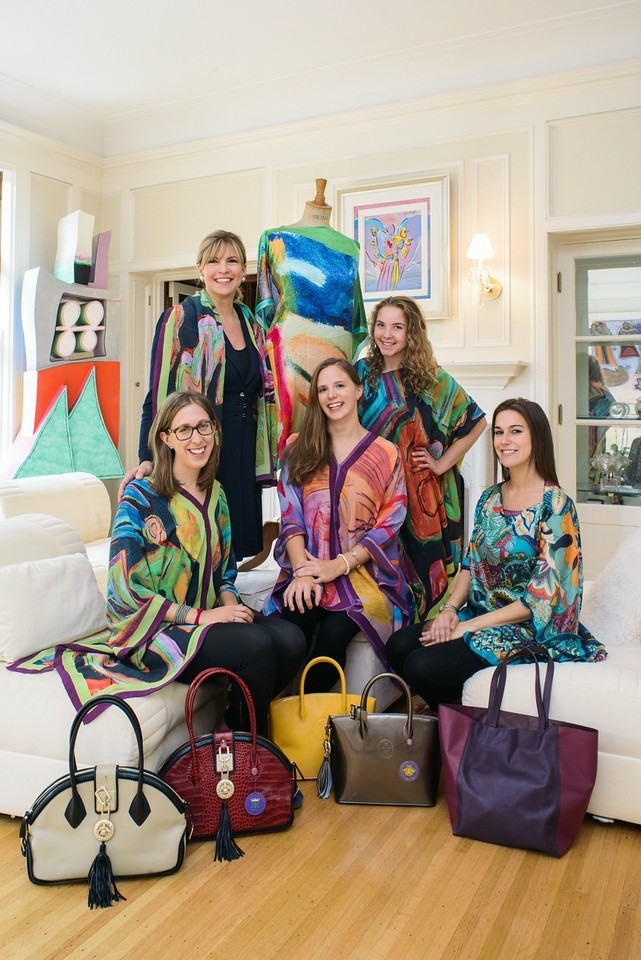 Recently thirteen-year-old Abby Riggs decided she wanted to get involved in The Abigail Riggs Collection to help with the company's mission to make a difference in peoples' lives. After she received a sewing machine for her birthday from one of her grandmothers, Abby began designing and sewing dresses, shawls, and ponchos made out of The Abigail Riggs Collection scarves—each ARC handbag has a complimentary scarf that incorporates the handbag's colors into its abstract print—with the help of her other grandmother Lauretta, who she affectionately calls, "Meme."  With her grandmothers as mentors failure was impossible!  This summer while most middle schoolers headed off to camp or outside to relax in the sun, Abby designed and sewed an entire collection for ARC titled, Shawls for Shelter. Talk about industrious!
A few weeks ago I sat down with Abby and her grandmother as well as with the founders of Fashion Week of Rochester, Meghan Mundy and Elaine Spaull, and The ARC team, to discuss the Shawls for Shelter collection. Needless to say, Meghan and Elaine loved Abby's designs, and Abby has landed herself a show in Fashion Week of Rochester! Abby's collection will be showcased in Fashion Week of Rochester's Fashion By The Books runway show at the Rundell Library on October 17th, 2014. Fashion By The Books will be this year's family show: what better place for this young designer to debut her first collection?  The Abigail Riggs Collection is especially proud to continually partake in Fashion Week of Rochester since ticket sales from Fashion Week of Rochester events go towards The Center for Youth's new shelter for teenage boys.  When you buy a ticket to see Abby's collection of shawls you will be giving  shelter to Rochester's youth.
Meghan Mundy and Elaine Spaull founded Fashion Week of Rochester as a way to showcase creativity in Rochester while also raising money for The Center For Youth, which offers shelter, career services, education, and counseling to Rochester's youth. I have always enjoyed Fashion Week of Rochester, but especially appreciate its mission to be an event that is inclusive, rather than most Fashion Weeks around the world that are exclusive and invitation only. Thanks to Meghan and Elaine's vision Fashion Week of Rochester has become a fun outing for all Rochesterians, not only local fashionistas!
At our meeting at the ARC headquarters, we played dress-up and experimented with all the different ways to wear Abby's designs. Shawls for Shelter couldn't be more comfortable, and they fit all body types—which goes along with Abby's mission for her designs to make people feel good about themselves. Flattering but not form fitting, Abby's scarf designs looked great on all of us!
While The Abigail Riggs Collection will be featured in the Fashion By The Books runway show, don't forget to look for our handbags throughout the fashion week shows. Rumor has it that our new Mrs. Ballington Booth bag may even make an appearance with a tiny dog inside!